SPACE 
.
The Barron Theater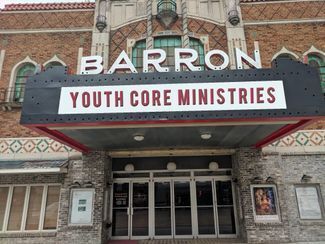 The mission of the Barron Theater for Youth Core Ministries is two fold. First the upper theater serves the youth in weekly Core Life Ministry and as an after school senior high hang out. Secondly, it is to honor the Barron's history in Pratt preserving its structure and ambiance in the lower theater and lobby areas. Vintage movies and X-box tournaments on a theater screen will provide and entertainment component for the youth and families in Pratt. The goal of YCM is to share our mission of The Barron in the community with an open hand. We hope to share the facility with both private and public entities in Pratt as needed. We are willing to partner with private, civic, community, and church organizations in ways that serve the people of Pratt in a positive way. We are excited about collaborations with local groups and plan to network as often as possible. The Barron Facility will be available for event rental.
SHOWTIMES: Friday & Saturday- 7:00pm | Sunday- 2:00pm
The Barron Theatre was first opened in 1930 as a single screen theatre. Mr. Barron, A native of Indiana, came to Kansas as the assistant manager and drummer of the Wellington Majestic Theatre orchestra. During the fifteen years he spent in Wellington, Ks, he met the daughter of John T. Showalter. They were married in 1906.
Together the Barron's entered the theatre management business, at one time owning and operating theatres in Wellington, Augusta, Eureka, Kiowa, Medicine Lodge, Wichita and Ponca City, Oklahoma. Mr. Barron was the personnel and the business manager and promoted the best Hollywood had to offer.
In 1924 they moved to Pratt, Ks and purchased three frame business houses in the 300 block of the South Main Street as the first step of their dream. The buildings had been occupied by the Gregory Bakery, the Gem Café, and the Anglin Barber Shop. Here they built the Barron Theatre. Now their dream was complete, and Pratt had a beautiful theatre.
SPACE
---
SPACE
The Store Next Door
We believe that God cares about local marketplace and economic development. The Store Next Door and the Barron (both owned by Youth Core Ministries) provide employment opportunities, volunteer opportunities and a source of income for the YCM. These businesses give kids in the Pratt community to become better employees in a caring environment.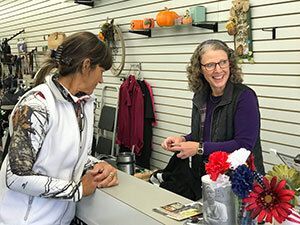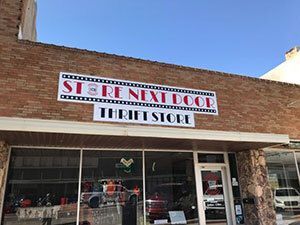 Items Available:
Clothing
Mini-book store
Household items
Furniture (Occasionally)
Knick-knacks
STORE HOURS: THURSDAY – SATURDAY: 10:00AM – 5:00PM